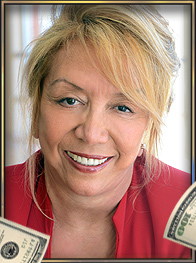 "If you don't have what you want, you don't have the right systems in place," says DC Cordova, my guest today on the Money & Manifestation Summit. 
She is an expert in systems – as the CEO of Excellerated Business Schools, she has trained high level executives and small business entrepreneurs alike in more than 65 countries through her Money & You program.
There is an illness in our society, she says – the 'I know that' illness. When she presents someone who is experiencing financial troubles with the proven systems that have made many multimillionaires, most people say, "Oh, yeah, I know that." There is a big difference, however, between knowing something and applying it. If you know something already, it won't do you much good, you have to apply it.
The Key to Manifesting Money
We spent some time in the interview going over the sound business principles she teaches in her program, and then we got into the topic that excited both of us: manifestation. "The key to manifesting money is Ho'oponopono," she declared.
If you have never heard of this ancient Hawaiian practice of forgiveness, it is a method of releasing your blocks and atoning for your errors. But you also have to forgive the wrongs that were done to you, because holding onto resentment (especially resentment around money) can prevent you from manifesting anything else, so long as your resentment is in the way. The affirmations "I'm sorry, please forgive me, thank you, I love you," can be used to put you in a pure vibration, and prepare you for manifesting more money.
You have to know the good purpose that you are raising money for, DC advises. If you know that you are a good person, and you are going to use your wealth to do good deeds, the Universe will magically come to your aid, because it wants that good to be done. DC made a commitment to end world hunger, and one year later, was gifted with the tremendous career opportunity that has allowed her to easily do her good work ever since.
There are no special people on the planet, she says – nobody has the money-making gene. It is our actions that make us extraordinary. Actions are something that anyone can take, no matter where you come from, or what your situation is – you can always align yourself with a noble purpose. By acting towards a virtuous goal, with the proper systems in place, you can manifest all the wealth you need to carry out your purpose.
There are three steps to money, DC says: either you are in the process of making the money, keeping the money you managed to make, or growing the money you managed to keep. The key to moving between these three steps is having good systems, and these systems are not a secret. They have been used and replicated by millionaires throughout history, and DC's own Money Making Systems Mini-Business School can give you an easy-to-follow blueprint to build these systems around your own life.