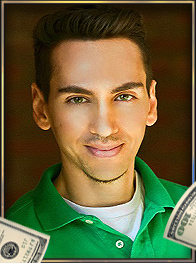 "The key to creating more abundance in your life is to think less and feel more," says Emmanuel Dagher, my guest today on the Money & Manifestation Summit. "Those people who are thriving financially and truly happy, they get that."
When Emmanuel brought up Oprah Winfrey, and how she had figured out how to harness true happiness through giving and gratitude, this spiritual intuitive finally dove deep into the subject that our Money & Manifestation Summit has only touched on until now:
Money is an energy of flow.
"Money is simply the embodiment of giving and receiving. It is the universal energy of circulation in physical form." – Emmanuel Dagher
I'm going to repeat that last sentence, because I think it is so important. Money is the universal energy of circulation in physical form. These little paper bills and coins that we carry around, this is spiritual feedback for us!
Cash in our hands, balances in our bank accounts, this is a fully alive frequency that is actually a living, breathing energy. As we invite this energy to us and through us, the amount of money that we have is a physical manifestation of how well we are living in alignment with the circulation of money.
Aligning With the Energetic Flow of Prosperity
If we treat money as a lifeless object, and we abuse it, and we judge it, the energy of money is traumatized in our life. Our relationship with money matters. To heal this energy, Emmanuel guides his students into 'zero-point energy' – a place where there is no future, and no past, only the present, eternal moment of now.
From this place, when you feel gratitude for all of the blessings you have in your life, and all of the abundance that you already possess, the energy of money knows it is safe with you.
The Place of Eternal Abundance
It is so easy to serve as a witness to healing other people, and to believe that their healing is possible; but as many empaths and intuitives know, when it comes to healing yourself, it can be much more difficult. That's why the zero-point energy is so fantastic.
When you arrive in this place, you shed all of your judgments about how your life has been in the past, and all of your concerns about how your life should be in the future. When you are fully, 100% present in the eternal Now, you can invoke the energy that you know will heal you, and there is nothing to interfere with its manifestation.
Emmanuel took us through a powerful 18 minute guided meditation that left me feeling uplifted and vibrant. He also answered some of the questions from the audience so clearly and completely, I know that many of my listeners are going to experience profound shifts in their ability to manifest after watching this interview.
"The biggest secret is to feel more and think less," he said. "When we try to get it, and try to do it, it's not going to happen. You need to release it, and then it will come."
How to Heal the Energy of Money
When energy workers get specific about their process, and describe what it feels like to do their work, I am always fascinated. Emmanuel said he has three steps: he expands out, absorbs the energy, and releases it.
He does this from the zero-point energy field, in the eternal present moment: expanding his awareness, absorbing the energies he wnats to manifest (or dissipate), and then releases that energy through his expanded being.
"There is no word that could describe what the Universe is," Emmanuel explains, "except for Love. It is an unwavering frequency of expansion and evolution. In that energy, if we tap into it, everything is possible. Everything."
The energy work that Emmanuel provides is unparalleled. He has packaged together two of his programs focused on Abundance and Money Healing especially for The Aware Show listeners, and I can tell you after listening to them: you will see results. Your relationship with money is about to change! Click below to watch the interview replay.