Ari Whitten on The Aware Show with Lisa Garr
Recent Episodes of The Aware Show
Recent Interviews by Lisa Garr
June 21, 2017
Paul O'Brien
Cultivating Intuitive Intelligence (re-air)
Would you like to fine tune your intuitive antenna?  Would you like to learn how to leverage synchronicities to effect change within yourself?  If you're ready to get to know yourself better and develop your intuitive side, then take a listen to this interview between Lisa and author Paul O'Brien as they discuss his newest book, Great Decisions, Perfect Timing: Cultivating Intuitive Intelligence.
June 22, 2017
Kelly Sullivan Walden
Dreams and Premonitions (re-air)
We all have the ability to tap into our intuition, but often find it hard to do. So dreams and premonitions are often the way our intuition or our faith in the beyond manifest.  Lisa's guest today, author Kelly Sullivan Walden, also known as "Dr. Dream", has put together a collection of 101 stories of intuition, insight, and inspiration that will amaze you and encourage you tap into your own inner wisdom.  Find out more about Chicken Soup for the Soul: Dreams and Premonitions: 101 Amazing Stories of Miracles, Divine Intervention, and Insight on today's show.
---
Becoming Aware
by Lisa Garr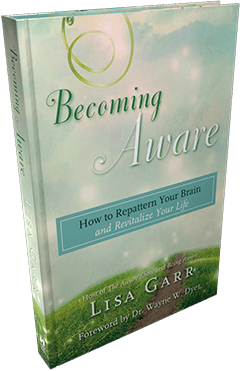 Several years ago, Lisa suffered a brain injury during a California State Championship Mountain bike race, cracking her helmet in 13 places.
After her near-death experience while lying on the side of the mountain, she transformed her level of consciousness, and rebuilt her brain and her life using specific visualization techniques outlined in this book.