Next Guest: Matt Riemann on February 15
---
Come See Lisa Garr at the Conscious Life Expo!
SATURDAY, FEB. 20

MEET 'N GREET at ILWS booth

Noon-1:30pm - #455 Int'l Ballroom

Panel: George Noory – "Future of Humanity"

2pm-4pm - Plaza Ballroom (downstairs)

BOOK-SIGNING:

4:30pm-5:30pm

SUNDAY, FEB. 21

Panel: Near Death Experience:

9:30am-11:30am - Plaza Ballroom (downstairs)

WORKSHOP - Language From The Other Side

12:00pm-1:30pm - La Jolla Ballroom

BOOK-SIGNING:

2:00pm – 3:30pm

MEET 'N GREET: at ILWS booth

4:00pm – 6:00pm - #455 Int'l Ballroom
If you cannot be in Los Angeles for this life-transforming event, you can stream it live!
---
Broadcast Schedule
Interviews Hosted

by Lisa Garr

---

Glynis McCants

Tuesday, February 2, 2015

---

Emmanuel Dagher

Tuesday, February 9, 2015

---

John Gray

Tuesday, February 16, 2015

---

Paul Selig

Tuesday, February 23, 2015

Wednesday

February 10, 2015

Thursday

February 11, 2015

Dr Stan Tatkin

Your Brain on Love

"Improve your brain, improve your relationships." That's what Dr. Stan Tatkin has learned from his leading-edge work as a researcher and couples therapist. Listen today as Stan shares with Lisa some insights he's learned about neurobiology and attachment theory that could help you shift out of conflict and into more loving connections. He'll even share some of the proven principles and practices for building enduring security and commitment between partners, family members, and others during this special fund drive show. 

Lisa Garr

Language From The Other Side

After fighting cancer for almost four years, Anita Moorjani crossed over into the afterlife and miraculously came back to share her experience. After a mountain bike crash, Lisa had a similar near death experience that took her on a journey to a pure, expansive state of consciousness. These two dynamic women will be sharing the stage at the upcoming Conscious Life Expo on Sunday, Feb. 21st from 12-1:30pm, bringing you an experience of what it's like "on the other side." Get your chance to see them in person by listening to this special fund drive show.
---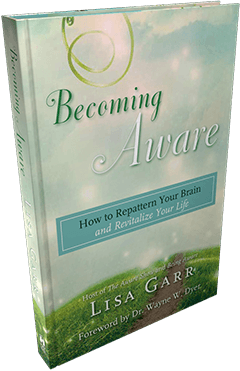 "Becoming Aware" by Lisa Garr
My first book has been published by Hay House!
I am so excited for you to read my new book "Becoming Aware." This is the story of my life-changing mountain biking accident, and the journey I took to heal my brain. The book is available through Amazon, Barnes & Noble, and better bookstores everywhere.
To celebrate the release of my first book, I also created the "Becoming Aware Guide," a series of guided meditations that I have used for years to bring myself into greater awareness. This Guide contains special video instructions for my personal awareness-building techniques.
"It has been several decades now that I have known and admired this remarkable woman. I have sat with many of the world's most accomplished interviewers, and I consider Lisa to be my all-time favorite. She brings a kind of loving energy and excitement to every subject matter."
- Dr Wayne Dyer