Radiant Body Summit Replays Available for a Limited Time
For the month of July, Radiant Body Summit interview replays will be available.
We just finished our Radiant Body Summit and are keeping these Exclusive Limited Replays available for you until each offer sells through. So please listen now and pick up these Special Offers that our guests have put together just for our Aware Family.
Watch these replays while they are still available. In August these inspiring interviews will only be available for members of the Aware Community.
---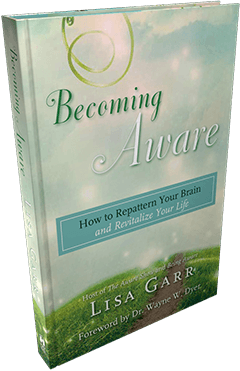 "Becoming Aware" by Lisa Garr
My first book has been published by Hay House!
I am so excited for you to read my upcoming book "Becoming Aware." This is the story of my life-changing mountain biking accident, and the journey I took to heal my brain. The book is available through Amazon, Barnes & Noble, and better bookstores everywhere.
To celebrate the release of my first book, I also created the "Becoming Aware Guide," a series of guided meditations that I have used for years to bring myself into greater awareness. This Guide contains special video instructions for my personal awareness-building techniques.
"It has been several decades now that I have known and admired this remarkable woman. I have sat with many of the world's most accomplished interviewers, and I consider Lisa to be my all-time favorite. She brings a kind of loving energy and excitement to every subject matter."
– Dr Wayne Dyer
Interviews Hosted

by Lisa Garr

---

Joel Harper

Tuesday, June 2, 2015

---

Brenda Michaels

Tuesday, May 26, 2015

---

Lisa Garr

Tuesday, May 19, 2015

Wednesday

July 1, 2015

Thursday

July 2, 2015

Joel Harper

Mind Your Body

Why is it that different people following the exact same diet and exercise regime will produce stunningly different results? It's so frustrating! So what's the determining factor? Well, according to fitness expert Joel Harper, the key factor may be destructive self-talk and negative thinking patterns. Listen today as Joel explains the crucial connection between meals, moves, and mindset. 

Dr Russell Targ

The Reality of ESP (re-air)

For anybody who has ever wondered if ESP is really real, take a listen to this interview between Lisa and author Russell Targ. His book, The Reality of ESP: A physicist's Proof of Psychic Abilities, has some pretty definitive proof and answers. Russell will presents some findings from his years of research into such talents as remote viewing and healing abilities to show that not only is ESP real, it is attainable by all. This is a good one!
---