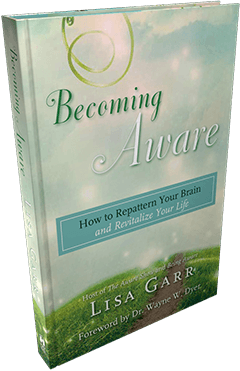 "Becoming Aware" by Lisa Garr
My first book, published by Hay House!
I am so excited for you to read my upcoming book "Becoming Aware." This is the story of my life-changing mountain biking accident, and the journey I took to heal my brain.
The book is available for presale for the next six weeks, through Amazon, Barnes & Noble, and through my own website.
To celebrate the release of my first book, I also created the "Becoming Aware Guide," a series of guided meditations that I have used for years, to bring myself into greater awareness. This Guide, which also contains special video instructions for my personal awareness-building techniques, will be available for 50% of the price we will offer it for after my book is released.
Special Bonus Interview!
Recently I had the opportunity to interview Dawson Church about what it means to "become aware." Watch this special interview clip by opting in here.
Interviews Hosted

by Lisa Garr

Dr. Kelly Turner

Tuesday, March 17, 2015

---

Allan Lokos

Tuesday, March 10, 2015

---

Christy Whitman

Tuesday, March 3, 2015
ALL Previous Seminar Replays NOW included in Community Membership!!

I know your life is busy and its not always possible to catch the live seminars. Sometimes its not possible to even catch the limited replays. Because we want everyone to have a positive change in their life, we are now making these replays available to all Aware Community members at no additional cost.

Lifetime access to these on-line replays will be streamed easily to your computer, for all members in good standing to enjoy time and time again. As we retain only a portion of what we hear, you need to be able to listen to these life changing interviews when it's most convenient for you.

< MORE INFORMATION >

Wednesday

March 18, 2015

Thursday

March 19, 2015

Dr. Marilyn Wedge

Why the Raise in Childhood ADHD?

In 1987 3% of children were diagnosed with ADHD. Now it's 15%, with 65% of them on some sort of medication. Yet other countries in Europe have almost zero. Why? Dr. Marilyn Wedge, author of A Disease Called Childhood: Why ADHD Became an American Epidemic, set out to find out why and during her interview with Lisa she explains the factors she has found to be the biggest contributors and what you, as a parent, can do to cope and support. This is a must-listen for any parent or teacher being challeged with this situation. 

Adam C. Hall

Conscious Evolution: Awakening the Power of Our Social Potential

In this era of government gridlock, economic and ecological devastation, and seemingly intractable global violence, our future is ever more in need of fresh, creative reimagining. During today's show, Lisa interviews both Barbara Marx Hubbard and Adam C. Hall about the fact that our current crises are not the precursors of an apocalypse but rather the natural birth pains of an awakened, universal humanity. Listen in as they dive deeper into Barbara's latest book, Conscious Evolution: Awakening the Power of Our Social Potential.
---
GaiamTV "Inspirations" With Lisa Garr

For The Complete Calendar Of All
My GaiamTV Shows

Please Go To www.LisasInspirations.com

 Free 10 Day Pass Included – Sign Up Now

It's Entertaining!

"Lisa Garr is a magnificent, insightful, wise, witty, and fun interviewer. I love being on her show. I think the world of her and her great and inspiring show." - Mark Victor Hansen, best-selling co-author of Chicken Soup for the Soul and The One Minute Millionaire

I Love Her Energy.

"If I really get honest with myself, Lisa Garr's AWARE Show is probably my favorite. I love her energy. I love her audience. Good vibes! I feel inspired whenever I am on or listen to her show — almost ecstatic. – David Wolfe
---