Interviews Hosted

by Lisa Garr

---

Chris Grosso

Tuesday, November 3, 2015

---

May McCarthy

Tuesday, November 10, 2015

---

Lauren Simon

Tuesday, November 17, 2015

---

Kelly Turner

Tuesday, November 24, 2015

Wednesday

November 25, 2015

Thursday

November 19, 2015

Sally Armstrong

Women are Rising Around the World!

Tune in today for a great interview with award-winning journalist Sally Armstrong. Lisa and she talk about her latest book, Uprising: A New Age is Dawning for Every Mother's Daughter. In it she chronicles the shift that's happening around the world, particularly in oppressed societies, where women are standing up fearlessly despite bodily harm, societal shunning, threats of violence and death threats and calling for justice, equality and education. She shares some wonderful stories so please take a listen! 

Dr Dain Heer

Terrorism: Not on Our Watch!

Dr. Dain Heer is fired up about the recent bombings in Paris and he's on the show today to talk about what we as individuals and collectively can do to take control of our world. It's not a time to live in fear but rather a time to participate and shape the world as we'd like to see it. This should be a very lively conversation – don't miss it!
---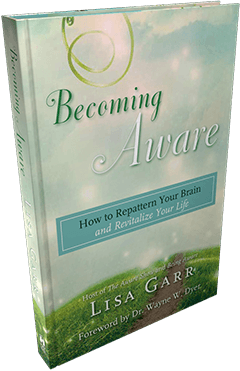 "Becoming Aware" by Lisa Garr
My first book has been published by Hay House!
I am so excited for you to read my new book "Becoming Aware." This is the story of my life-changing mountain biking accident, and the journey I took to heal my brain. The book is available through Amazon, Barnes & Noble, and better bookstores everywhere.
To celebrate the release of my first book, I also created the "Becoming Aware Guide," a series of guided meditations that I have used for years to bring myself into greater awareness. This Guide contains special video instructions for my personal awareness-building techniques.
"It has been several decades now that I have known and admired this remarkable woman. I have sat with many of the world's most accomplished interviewers, and I consider Lisa to be my all-time favorite. She brings a kind of loving energy and excitement to every subject matter."
– Dr Wayne Dyer
---