Next Live Interview
With Dr & Master Sha
& Bill Gladstone
Monday, July 25, 1PM
Financial Miracles: You Can Change Your Life
July 13, 2016
Gudrun Penselin
Herbal Pharmacy for Everyone (Fund Drive)
If you've ever wondered how to tap into the healing power of plants and put them to use to help you resolve various ailments and conditions then this is the fund drive show for you.  Christine Blosdale joins Lisa to talk about a 2 DVD set called Herbal Pharmacy for Everyone, as presented by herbal experts Gudrun Penselin and Adrian de Landa. This instructional DVD actually SHOWS you how to make your own herbal preparations like juices, tinctures, infused oils, compresses and more with equipment found in any home kitchen.  
July 14, 2016
Dr. Fabrizio Mancini
21 Days to Self-Healing Mastery (Fund Drive) re-air
Okay people, this is a great opportunity!  Today Dr. Fabrizio Mancini is on the show to talk about unlocking your body's natural healing potential in just 21 days!  Got your attention?!  Tune in and find out how you can lose weight, reduce pain, and double your energy through his program that focuses on naturally healing your physical, emotional and spiritual health.  If you're looking for daily support to make important changes in your life, you owe it to yourself to tune into this special fund drive show!
---
Becoming Aware
by Lisa Garr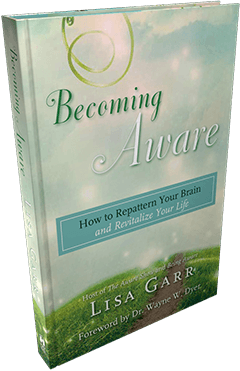 Several years ago, Lisa suffered a brain injury during a California State Championship Mountain bike race, cracking her helmet in 13 places.
After her near-death experience while lying on the side of the mountain, she transformed her level of consciousness, and rebuilt her brain and her life using specific visualization techniques outlined in this book.

Light lifts our spirits. Light purifies and it catalyzes. Truth be told, light is the most useful, plentiful and yet under-appreciated resource we have. Ubiquitous, yet intangible. Delicate, yet powerful. In both quantum science and shamanic belief, we acknowledge our inseparable connection to light. In life, death and spirituality, light is our ascension and our divinity.
Our knowledge of light, that most elusive of elements, defier of physics…is on the edge of a medical rethink, a game-changing threshold…one we are compelled by conscience to radiate everywhere. We are now discovering that we can harness the therapeutic properties of light to possibly treat in the future any illness or injury known to man.
We have asked our most scientifically minded experts to participate in the Academy. They will put light through a prism and reveal the spectrum of benefits it has to our spiritual, emotional and physical bodies. How does each frequency affect and impact us? Is light therapy in your future? Listen to the Academy's experts describe how they use light in their therapeutic practices...