Latest Interview
With Dr & Master Sha
Monday, May 9, at 1PM Pacific Time
Your soul, the essence of who you are, can heal your mind and body, says Master Sha. Every cell, every organ, every system and every part of your body has a unique essence. You have the power to send a new message to your mind and body to activate healing.
Master Sha teaches the Four Power Techniques® and Say Hello Healing® to create Soul Mind Body Medicine®, a complete Tao wellness system for optimum health and well-being. 
May 12, 2016
Jenny Ross
Gourmet Foods At 118 Degrees
You are in for a treat today!  On the program is chef Jenny Ross from the Southern California restaurant chain, 118 Degrees.  They serve nothing but the freshest gourmet living cuisine — everything is lovingly prepared, by hand daily, using local organic produce wherever possible. Also known as "Raw Foods", their cuisine is entirely plant-based, made from fruits, vegetables, nuts, seeds & sprouted grains-all prepared at 118° or lower to preserve valuable nutrients. And Jenny is on the show today to offer a very tasty fund drive special - be sure to tune in!
May 12, 2016
Adam Markel
Reach New Peak Potential! (Fund Drive)
If you want to reach new heights and really realize your true potential, then you've got to listen to this interview with Adam Markel.  He's the CEO and a former world-renowned trainer for Peak Potentials (now called New Peaks).  He has helped people all over the world address their deepest truths about their relationship to money and he's on the show today to offer a special opportunity for you to do the same during today's fund drive show.
May 18, 2016
Joe Vitale
Find Out "the Millionaire Secret"! (Fund Drive)
Do you want to know the millionaire secret?  Well then, you'll have to tune into today's show because that's when Joe Vatalie will be revealing some of the practical tools for erasing old stories and creating new ones that help you overcome limiting beliefs about money to become a Money Magnet! 
---
Becoming Aware
by Lisa Garr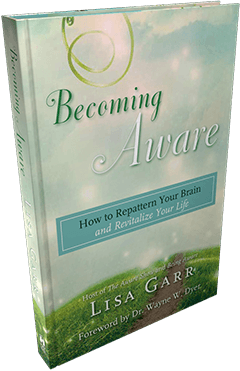 Several years ago, Lisa suffered a brain injury during a California State Championship Mountain bike race, cracking her helmet in 13 places.
After her near-death experience while lying on the side of the mountain, she transformed her level of consciousness, and rebuilt her brain and her life using specific visualization techniques outlined in this book.

Light lifts our spirits. Light purifies and it catalyzes. Truth be told, light is the most useful, plentiful and yet under-appreciated resource we have. Ubiquitous, yet intangible. Delicate, yet powerful. In both quantum science and shamanic belief, we acknowledge our inseparable connection to light. In life, death and spirituality, light is our ascension and our divinity.
Our knowledge of light, that most elusive of elements, defier of physics…is on the edge of a medical rethink, a game-changing threshold…one we are compelled by conscience to radiate everywhere. We are now discovering that we can harness the therapeutic properties of light to possibly treat in the future any illness or injury known to man.
We have asked our most scientifically minded experts to participate in the Academy. They will put light through a prism and reveal the spectrum of benefits it has to our spiritual, emotional and physical bodies. How does each frequency affect and impact us? Is light therapy in your future? Listen to the Academy's experts describe how they use light in their therapeutic practices...