Radiant Body Summit Replays Available for a Limited Time
For the month of July, Radiant Body Summit interview replays will be available.
We just finished our Radiant Body Summit and are keeping these Exclusive Limited Replays available for you until each offer sells through. So please listen now and pick up these Special Offers that our guests have put together just for our Aware Family.
Watch these replays while they are still available. In August these inspiring interviews will only be available for members of the Aware Community.
---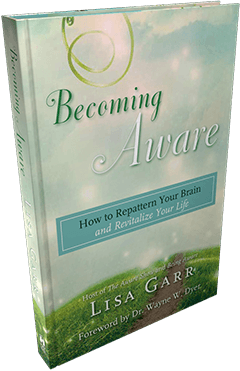 "Becoming Aware" by Lisa Garr
My first book has been published by Hay House!
I am so excited for you to read my upcoming book "Becoming Aware." This is the story of my life-changing mountain biking accident, and the journey I took to heal my brain. The book is available through Amazon, Barnes & Noble, and better bookstores everywhere.
To celebrate the release of my first book, I also created the "Becoming Aware Guide," a series of guided meditations that I have used for years to bring myself into greater awareness. This Guide contains special video instructions for my personal awareness-building techniques.
"It has been several decades now that I have known and admired this remarkable woman. I have sat with many of the world's most accomplished interviewers, and I consider Lisa to be my all-time favorite. She brings a kind of loving energy and excitement to every subject matter."
– Dr Wayne Dyer
Interviews Hosted

by Lisa Garr

---

Tim Link

Tuesday, July 28, 2015

---

Sam Horn

Tuesday, July 21, 2015

---

Stewart Pearce

Tuesday, June 30, 2015

Wednesday

August 26, 2015

Thursday

August 27, 2015

Dr Carrol McLaughlin

Manifest Moment to Moment (re-air)

You are already a manifester — whether you are aware of it or not. You have the capability and the power to create the life you truly desire—by digging deep inside yourself, discovering the magic of your potential, clearing your limitations and connecting to your unique soul mission and deepest desires. Find out how as Lisa interviews co-authors Tejpal and Dr. Carrol McLaughlin about their book Manifest Moment to Moment: 8 Principles to Create the Life You Truly Desire. 

Dr Diane Roberts

Coping with Traumatic Brain Injuries

Having sustained a traumatic brain injury herself, this is one of Lisa's favorite topics. And here to shed some light on the topic of concussions and mild brain injuries is Dr. Diane Roberts. She herself sustained a brain injury and has become an expert on the topic. She has developed many coping and rebuilding processes and techniques that she shares in her book Coping with Concussion and Mild Traumatic Brain Injury. This is a very informative interview for anyone who has or is living with someone who has had a minor to major head injury.
---