August 25, 2016
Pedram Shojai, OMD
Pedram's Wellness Pack (Fund Drive)
There is so much health and wellness advice out there - who to listen to?  Well, a good choice would be Dr. Pedram Shojai, author of the book The Urban Monk.  He has a prescription for wellness that is common sense, straight-forward and easy to implement.  Take a listen during this special fund drive show.
August 24, 2016
Liquid BiioCell
This Will Change the Way You Age! (Fund Drive)
If you've been looking for a product that can help promote healthy aging, healthy joints and younger-looking skin then we have the fund drive program for you!  Today Lisa interviews Asma  Ishaq about  Liquid BioCell® Life, which is an award-winning super nutraceutical with medically-proven  results.
---
Becoming Aware
by Lisa Garr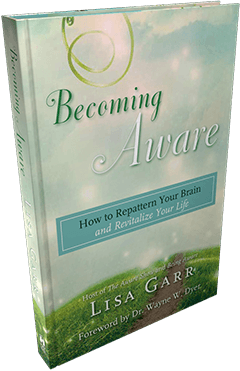 Several years ago, Lisa suffered a brain injury during a California State Championship Mountain bike race, cracking her helmet in 13 places.
After her near-death experience while lying on the side of the mountain, she transformed her level of consciousness, and rebuilt her brain and her life using specific visualization techniques outlined in this book.

Light lifts our spirits. Light purifies and it catalyzes. Truth be told, light is the most useful, plentiful and yet under-appreciated resource we have. Ubiquitous, yet intangible. Delicate, yet powerful. In both quantum science and shamanic belief, we acknowledge our inseparable connection to light. In life, death and spirituality, light is our ascension and our divinity.
Our knowledge of light, that most elusive of elements, defier of physics…is on the edge of a medical rethink, a game-changing threshold…one we are compelled by conscience to radiate everywhere. We are now discovering that we can harness the therapeutic properties of light to possibly treat in the future any illness or injury known to man.
We have asked our most scientifically minded experts to participate in the Academy. They will put light through a prism and reveal the spectrum of benefits it has to our spiritual, emotional and physical bodies. How does each frequency affect and impact us? Is light therapy in your future? Listen to the Academy's experts describe how they use light in their therapeutic practices...