Exclusive Replays Available for a Limited Time Only
---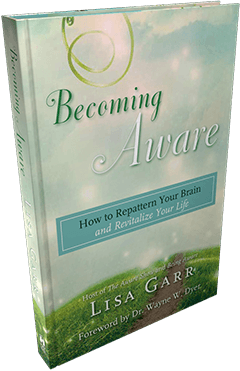 "Becoming Aware" by Lisa Garr
My first book has been published by Hay House!
I am so excited for you to read my upcoming book "Becoming Aware." This is the story of my life-changing mountain biking accident, and the journey I took to heal my brain.
The book is available through Amazon, Barnes & Noble, and through my own website.
To celebrate the release of my first book, I also created the "Becoming Aware Guide," a series of guided meditations that I have used for years, to bring myself into greater awareness. This Guide, which also contains special video instructions for my personal awareness-building techniques, will be available for 50% of the price we will offer it for after my book is released.
Special Bonus Interview!
Recently I had the opportunity to interview Dawson Church about what it means to "become aware." Watch this special interview clip by opting in here.
Interviews Hosted

by Lisa Garr

---

Nick Seneca Jankel

Tuesday, March 31, 2015

---

Dr. Kelly Turner

Tuesday, March 17, 2015

---

Allan Lokos

Tuesday, March 10, 2015

Wednesday

April 29, 2015

Thursday

April 30, 2015

Dr. Ibrahim Jaffe

Find Your Truth and Heal Your Life

Dr. Ibrahim Jafee is a licensed medical doctor who, for the past 25 years, has pioneered advanced energetic and spiritual healing in the US. He is the cofounder of the University of Spiritual Healing and Sufism located in Napa Valley. Using a combination of western medicine and Sufi spiritual healing techniques he has helped bring healing to 1000s of people. 

David M Howitt

Heed Your Call (re-air)

So many of us suffocate in our cubicles, afraid to become the hero of our own life story. What we need is a modern-day manifesto for the innovator whose creativity is stifled, the job hunter who's losing hope, and the professional who no longer feels connected and fulfilled. And that 'modern day manifesto' is HEED YOUR CALL: Integrating Myth, Science, Spirituality and Business, written by thought leader and entrepreneur David Howitt. Listen today as Lisa and David talk about the fact that life is not an either/or prospect—you can have it all!
---
GaiamTV "Inspirations" With Lisa Garr

For The Complete Calendar Of All
My GaiamTV Shows

Please Go To www.LisasInspirations.com

 Free 10 Day Pass Included – Sign Up Now

"It has been several decades now that I have known and admired this remarkable woman. I have sat with many of the world's most accomplished interviewers, and I consider Lisa to be my all-time favorite. She brings a kind of loving energy and excitement to every subject matter."

- Dr Wayne Dyer
---