Tuesday, October 13, 1 PM Pacific Time

---
November 21, 2015 | Marina Del Rey, CA
Join bestselling authors Anita Moorjani and Lisa Garr in "Creating the Conscious Connection," an all-day workshop of visualization, guided meditation, and discussions about what it's like on the other side.
Register Now for this Live Event
---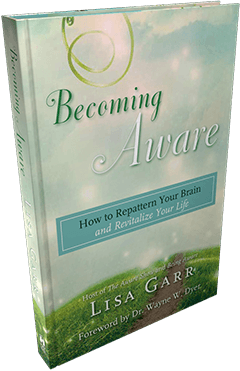 "Becoming Aware" by Lisa Garr
My first book has been published by Hay House!
I am so excited for you to read my new book "Becoming Aware." This is the story of my life-changing mountain biking accident, and the journey I took to heal my brain. The book is available through Amazon, Barnes & Noble, and better bookstores everywhere.
To celebrate the release of my first book, I also created the "Becoming Aware Guide," a series of guided meditations that I have used for years to bring myself into greater awareness. This Guide contains special video instructions for my personal awareness-building techniques.
"It has been several decades now that I have known and admired this remarkable woman. I have sat with many of the world's most accomplished interviewers, and I consider Lisa to be my all-time favorite. She brings a kind of loving energy and excitement to every subject matter."
– Dr Wayne Dyer
Interviews Hosted

by Lisa Garr

---

Dr Fabrizio Mancini

Tuesday, September 15, 2015

---

Ralph White

Tuesday, September 8, 2015

---

Wayne Dyer

Tuesday, September 1, 2015

Wednesday

October 7, 2015

Thursday

October 8, 2015

Derek Rydall

Awaken Your Wealth Potential! (Fund Drive)

Master the energy of money. Manifest more than you can imagine! On today's special fund drive show, Lisa will be interviewing master manifestation expert Derek Rydall. You'll discover the hypnotic wealth spells you've been under that have unconsciously sabotaged you, and the awakened wealth principles that allow you to easily make more, keep more, have more, and never worry about money again! 

Renee Lynn

Try a Little Light and Love!

Here's an interesting combination of health and beauty treatments — a light healing session while getting a soothing gold eye treatment! Take the time to listen to this Fund Drive interview with Age Interventionist Renee Lynn. She'll extoll the virtues of light therapy and how wonderful it is when combined with a toning eye treatment. Heavenly!
---