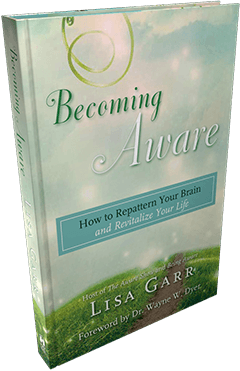 "Becoming Aware" by Lisa Garr
My first book has been published by Hay House!
I am so excited for you to read my upcoming book "Becoming Aware." This is the story of my life-changing mountain biking accident, and the journey I took to heal my brain. The book is available through Amazon, Barnes & Noble, and better bookstores everywhere.


To celebrate the release of my first book, I also created the "Becoming Aware Guide," a series of guided meditations that I have used for years, to bring myself into greater awareness. This Guide, which also contains special video instructions for my personal awareness-building techniques, will be available for 50% of the price we will offer it for after my book is released.
"It has been several decades now that I have known and admired this remarkable woman. I have sat with many of the world's most accomplished interviewers, and I consider Lisa to be my all-time favorite. She brings a kind of loving energy and excitement to every subject matter."
– Dr Wayne Dyer
Special Bonus Interview!
Recently I had the opportunity to interview Dawson Church about what it means to "become aware." Watch this special interview clip by opting in here.
Interviews Hosted

by Lisa Garr

---

Kute Blackman

Tuesday, May 12, 2015

---

John Bradshaw

Tuesday, May 5, 2015

---

Nick Seneca Jankel

Tuesday, March 31, 2015

Wednesday

May 20, 2015

Thursday

May 21, 2015

Brent Phillips

30 Days to Awakening! (Fund Drive)

Are you ready for a spiritual awakening?! Are you ready to remove subconscious block and experience fulfillment instead? Do you want to learn the tricks to easily win the 7 games of consciousness including love, money and spiritual truth? Then this is the show for you! Brent Phillips will be sharing insights and information from his 30 Days to Awakening series during this special fund drive show. 

Dr Michael Beckwith

The Rev is in The House! (Fund Drive)

It's always a special treat when Lisa gets a chance to interview the Reverend Dr. Michael Bernard Beckwith. So tune into today's show as they talk about spirituality, personal growth and how to raise above to love.
---
GaiamTV "Inspirations" With Lisa Garr

For The Complete Calendar Of All
My GaiamTV Shows

Please Go To www.LisasInspirations.com

 Free 10 Day Pass Included – Sign Up Now