Broadcast Schedule
Interviews Hosted

by Lisa Garr

---

Glynis McCants

Tuesday, February 2, 2015

---

Emmanuel Dagher

Tuesday, February 9, 2015

---

John Gray

Tuesday, February 16, 2015

---

Paul Selig

Tuesday, February 23, 2015

Wednesday

February 3, 2015

Thursday

February 4, 2015

Eldon Taylor

Turn Your Mate Into Your Soulmate

Self-sabotage occurs when our subconscious mind clings to an old defense mechanism that was designed to protect us from some kind of hurt, and applies it to a situation where it is no longer appropriate. Eliminating Self-Sabotage is a program Eldon Taylor designed to neutralize that inner saboteur, helping you to align your inner goals of protection and self-preservation, with your outer goals of success! Find out more about this process and program today when Lisa interviews Eldon during this special fund drive show. 

Debra Silverman

What Can Be Done About Fukushima?

If you have questions about your calling or purpose, Astrologer Debra Silverman has insights and answers. And she'll be offering some on today's show, along with offering some personal sessions during this special fund drive show. Make sure to tune in!
---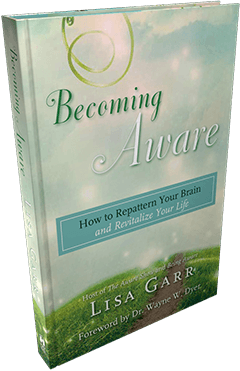 "Becoming Aware" by Lisa Garr
My first book has been published by Hay House!
I am so excited for you to read my new book "Becoming Aware." This is the story of my life-changing mountain biking accident, and the journey I took to heal my brain. The book is available through Amazon, Barnes & Noble, and better bookstores everywhere.
To celebrate the release of my first book, I also created the "Becoming Aware Guide," a series of guided meditations that I have used for years to bring myself into greater awareness. This Guide contains special video instructions for my personal awareness-building techniques.
"It has been several decades now that I have known and admired this remarkable woman. I have sat with many of the world's most accomplished interviewers, and I consider Lisa to be my all-time favorite. She brings a kind of loving energy and excitement to every subject matter."
- Dr Wayne Dyer