Learn About the Breakthrough Discoveries in Light Therapy
Light lifts our spirits. Light purifies and it catalyzes. Truth be told, light is the most useful, plentiful and yet under-appreciated resource we have. In both quantum science and shamanic belief, we acknowledge our inseparable connection to light. In life, death and spirituality, light is our ascension and our divinity.

---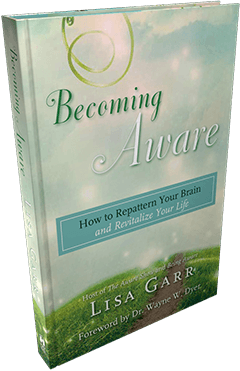 "Becoming Aware" by Lisa Garr
My first book has been published by Hay House!
I am so excited for you to read my new book "Becoming Aware." This is the story of my life-changing mountain biking accident, and the journey I took to heal my brain. The book is available through Amazon, Barnes & Noble, and better bookstores everywhere.
To celebrate the release of my first book, I also created the "Becoming Aware Guide," a series of guided meditations that I have used for years to bring myself into greater awareness. This Guide contains special video instructions for my personal awareness-building techniques.
"It has been several decades now that I have known and admired this remarkable woman. I have sat with many of the world's most accomplished interviewers, and I consider Lisa to be my all-time favorite. She brings a kind of loving energy and excitement to every subject matter."
– Dr Wayne Dyer
Interviews Hosted

by Lisa Garr

---

Dr Fabrizio Mancini

Tuesday, September 15, 2015

---

Ralph White

Tuesday, September 8, 2015

---

Wayne Dyer

Tuesday, September 1, 2015

Wednesday

September 30, 2015

Thursday

October 1, 2015

Dr. Barry Taylor

Making Transformation Real

Most of the time we all do not realize we live in a story, which includes our identity of who we are in the world. Beginning to observe is the first step in becoming aware of the filters and interpretations that effect what we see and say about ourselves. And only then can we begin to transform our lives. Listen in to today's interview between Lisa and Dr. Barry Taylor and learn how the practice of being more mindful and practicing observation can have enormous positive results on your health and happiness. 

Brian Mayne

Reach Your Goals Through Goal Mapping (re-air)

Do you have a goal but are having trouble reaching it? Then today's show is for you! Author and motivational speaker Brian Mayne is on the show to walk us through his Goal Mapping process. What's so different about his system? Well, where traditional goal setting techniques focus on left-brain words, only using endless repetition, Goal Mapping uses words and imagery – the language of the subconscious. Find out more by taking a listen! And go to www.7millionlives.com for your free Goal Mapping template and more!
---