November 30, 2016
Michael Tamura
How to Grow Spiritually
It's not always easy to take steps along your spiritual path and stay committed to it when there is so much 'human stuff' that springs up on a daily basis.  So it helps to get help and support and that's what Lisa's guest today is offering.  Spiritual teacher, clairvoyant and author Michael Tamura will be on the show to talk about his upcoming seminar weekend.  Saturday's seminar is "Psychic Tools to Transform Your Human Lack Into Divine Abundance" and Sunday's focus will be on "The Keys to Both Your Spiritual Advancement and Worldly Success."  Please consider attending Saturday and Sunday, December 3-4, at the Best Western Thousand Oaks Inn, 75 W. Thousand Oaks Blvd. in Thousand Oaks.  For more details visit www.michaeltamura.com/events.
December 1, 2016
Yogi Cameron
Celebrate the 70th Anniversary of "Autobiography of a Yogi"
On December 1st at 7pm the Bodhi Tree will host a global celebration to mark the 70th anniversary of the original publishing of Paramhansa Yogananda's best-selling Autobiography of a Yogi. Spiritual leaders and celebrities around the world—  Philip Goldberg, Michael Beckwith, Ram Dass, Krishna Das, Joseph Cornell, Elizabeth Rohm—will share how the Autobiography inspired their spiritual path.  Tune in today as Lisa talks with one of the spiritual leaders, Yogi Cameron, on how this book influenced his life so profoundly.  For free livestream of the event:  https://visit.bodhitree.com/events/yogananda-register
---
Becoming Aware
by Lisa Garr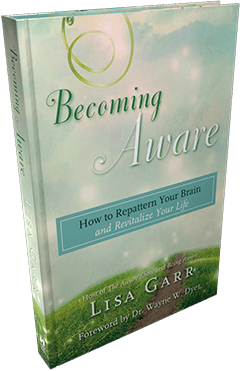 Several years ago, Lisa suffered a brain injury during a California State Championship Mountain bike race, cracking her helmet in 13 places.
After her near-death experience while lying on the side of the mountain, she transformed her level of consciousness, and rebuilt her brain and her life using specific visualization techniques outlined in this book.