Dr. Dain Heer on The Aware Show with Lisa Garr
Recent Episodes of The Aware Show
Recent Interviews by Lisa Garr
April 19, 2017
Brian Whetten, PhD
Selling By Giving
If you have a business, in the consciousness arena or really any other, and are looking for tips, coaching or insights into how to grow your business, then tune into today's show where Lisa will be interviewing business coach Brian Whetten.  We'll be taking live calls and coaching you to help get you on your feet and moving in the right direction.  Brian will be hosting an event this weekend, April 21-23 at the LAX Crowne Plaza Hotel.  See details here: www.sellingbygiving.com/conscious-business-gathering.
April 19, 2017
Dr. Stan Tatkin
Understanding Your Partner's Brain
"What the heck is my partner thinking?" is a common sentiment in romantic relationships, and with good reason. Every person is wired for love differently, with different reactions to conflict. The good news is that most people's minds work in predictable ways, making it possible to actually neurologically prime the brain for greater love and fewer conflicts.  Find out more and how during this interview with Dr. Stan Tatkin.
---
Becoming Aware
by Lisa Garr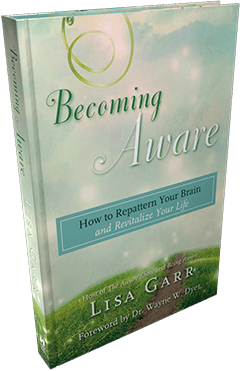 Several years ago, Lisa suffered a brain injury during a California State Championship Mountain bike race, cracking her helmet in 13 places.
After her near-death experience while lying on the side of the mountain, she transformed her level of consciousness, and rebuilt her brain and her life using specific visualization techniques outlined in this book.