September 28, 2016
David Wolfe
Detoxification: What You Need to Know
A detoxification is a necessary process to promote full body health; this is especially true if you are not the healthiest eater. The detoxification process removes harmful or toxic substances from your body, leading to better health and a great starting place for a new healthy lifestyle.  On today's show, health expert David Wolfe will go into greater detail about detox - why, when, how and more.  You can also see him live at his 3-day Longevity Now Conference, Sept. 30-Oct. 2 at the Anaheim Hilton.  For more information go to www.thelongevitynowconference.com.
September 29, 2016
Dr. Tom O'Bryan
Find Out About The Autoimmune Fix
Are you trying to be healthier but even your best efforts are producing mediocre results?  Well, according to Dr. Tom O'Bryan, best selling author of the new book Autoimmune Fix, you might be one of the millions of people who are already on the autoimmune spectrum.  But before you panic, listen to this interview where Dr. O'Bryan details autoimmunity, how it works in your body, why it might be going haywire, what the leading causes of inflammation are, and what you can do to start fixing your autoimmunity.  This is an important one, folks!
---
Becoming Aware
by Lisa Garr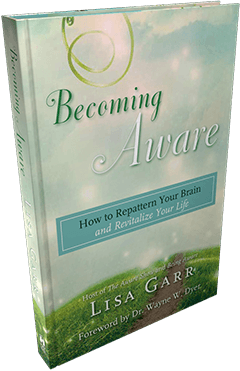 Several years ago, Lisa suffered a brain injury during a California State Championship Mountain bike race, cracking her helmet in 13 places.
After her near-death experience while lying on the side of the mountain, she transformed her level of consciousness, and rebuilt her brain and her life using specific visualization techniques outlined in this book.

Light lifts our spirits. Light purifies and it catalyzes. Truth be told, light is the most useful, plentiful and yet under-appreciated resource we have. Ubiquitous, yet intangible. Delicate, yet powerful. In both quantum science and shamanic belief, we acknowledge our inseparable connection to light. In life, death and spirituality, light is our ascension and our divinity.
Our knowledge of light, that most elusive of elements, defier of physics…is on the edge of a medical rethink, a game-changing threshold…one we are compelled by conscience to radiate everywhere. We are now discovering that we can harness the therapeutic properties of light to possibly treat in the future any illness or injury known to man.
We have asked our most scientifically minded experts to participate in the Academy. They will put light through a prism and reveal the spectrum of benefits it has to our spiritual, emotional and physical bodies. How does each frequency affect and impact us? Is light therapy in your future? Listen to the Academy's experts describe how they use light in their therapeutic practices...