Ari Whitten on The Aware Show with Lisa Garr
Recent Episodes of The Aware Show
July 26, 2017
Larry Olmsted
What are You REALLY Eating? (re-air)
You think you're eating wild caught salmon, but are you really?  How about that expensive Kobe steak you're indulging in - think that's actually the real thing?  Chances are it's not.  We're being deceived every day about the food we're eating - from cheese to olive oil to wine, and here to tell us more about what's real and what's fake is author Larry Olmsted.  His book Real Food/Fake Food exposes the food industry and gives tips on how to find and buy the REAL stuff.  This is a good one so listen up!
The recording for this show is not yet available.
July 27, 2017
Jonathan Robinson
The Technology of Joy (re-air)
Would you like to experience more joy? How about euphoria, inner peace or ecstasy? Well, today Lisa interviews psychotherapist and bestselling author Jonathan Robinson about that very topic.  Listen as Jonathan talks about his latest book The Technology of Joy: The 101 Best Apps, Gadgets, Tools and Supplements for Feeling More Delight in Your Life. From the simple to the sophisticated he'll tell us about all the best ways to feel fantastic and joyful.
The recording for this show is not yet available.
Becoming Aware
by Lisa Garr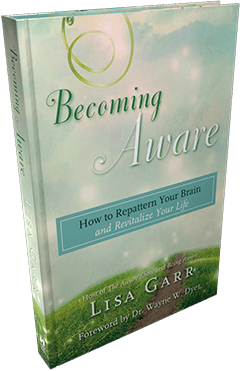 Several years ago, Lisa suffered a brain injury during a California State Championship Mountain bike race, cracking her helmet in 13 places.
After her near-death experience while lying on the side of the mountain, she transformed her level of consciousness, and rebuilt her brain and her life using specific visualization techniques outlined in this book.