Dr Dain Heer on The Aware Show with Lisa Garr
Recent Episodes of The Aware Show
Recent Interviews by Lisa Garr
May 24, 2017
Dr. Roy Speiser
What's In Our Water?! (Fund Drive
The quality of our drinking water is in question - do we REALLY know what we're drinking?  And even if we buy filtered water, or have a home filtration system, are we really getting what we expect from our efforts?  The topic of water and filtration will be covered today as Lisa interviews Dr. Roy Speiser who has made it his mission to research and disseminate information about the quality of our water.  Tune into this important fund drive show!
May 25, 2017
Joe Vitale
Attract Money NOW! (Fund Drive) re-air
We've got the millionaire secret!  Wanna know what it is?!  Well then, you'll have to tune into today's show featuring Joe Vitale.  Joe Vitale has  been studying the Law of Attraction for more than three decades and he's on the show today to tell us what works.  Plus, since it's our fund drive, we'll be offering some of his products that will absolutely help you manifest money and other great things into your life.  Take a listen!
---
Becoming Aware
by Lisa Garr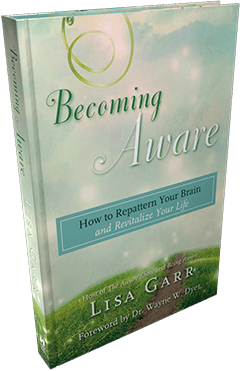 Several years ago, Lisa suffered a brain injury during a California State Championship Mountain bike race, cracking her helmet in 13 places.
After her near-death experience while lying on the side of the mountain, she transformed her level of consciousness, and rebuilt her brain and her life using specific visualization techniques outlined in this book.