November 14, 2018
Stephanie Salt
Spiritual Tools for Corporate Survival (re-air)
Today's show features lawyer, seasoned business executive and corporate shaman Stephanie Salt. Her company, Intuitive Diagnostics, specializes in helping businesses get to the next level by focusing on aligning their business and leadership for greater success. By offering effective and easy-to-use spiritual and metaphysical tools, Stephanie helps companies stay grounded and strong in today's fast-paced environment by adding that 'secret sauce' that other companies aren't aware of.  Tune in and find out more!  
The recording for this show is not yet available.
November 14, 2018
Sara Richter
 Nutritional Strategies for Life (re-air)
If you're looking for some good solid healthy eating information, look no further than today's interview.  Because Lisa is interviewing nutritionist and health educator Sara Richter.  Some good, solid information here!
The recording for this show is not yet available.
YouTube Episodes of The Aware Show
Please Subscribe to make a vote for Conscious Media!!
Becoming Aware
by Lisa Garr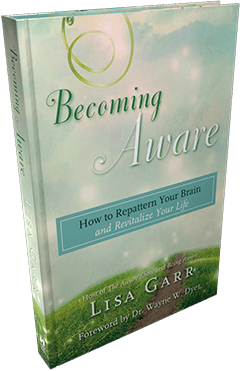 Several years ago, Lisa suffered a brain injury during a California State Championship Mountain bike race, cracking her helmet in 13 places.
After her near-death experience while lying on the side of the mountain, she transformed her level of consciousness, and rebuilt her brain and her life using specific visualization techniques outlined in this book.