Joe Vitale on The Aware Show 3.20.17
Recent Episodes of The Aware Show
Recent Interviews by Lisa Garr
March 22, 2017
Olympia LePoint
The Solution to Mathaphobia!
Do you have "mathaphobia?"  You know, fear of all things math-related?  Then this interview is for you!  Today's guest is author and rocket scientist Olympia LePoint.  Her book Mathaphobia®: How You Can Overcome Your Math Fears and Become a Rocket Scientist is an empowering self-help book that exposes the emotional struggles a lot of people face when learning to read and use math.  Listen as she offers some self-help tools and strategies, all without doing more math problems!
March 23, 2017
Dr. Barbara De Angelis
Make the Choice for Love
According to Lisa's guest today, Dr. Barbara De Angelis, when we think that love originates from somewhere outside of us, we mistakenly believe that we need to wait until something happens to give us an experience of love. In her new book, The Choice for Love, Barbara explains love isn't something we can actually "get" from anyone else. Love comes from the inside out. Instead of looking for it, or waiting to receive it or feel it, we learn how to choose it, to unblock our connection to it, to find that highest frequency of love and connect ourselves with it.  Take a listen and find out more.
---
Becoming Aware
by Lisa Garr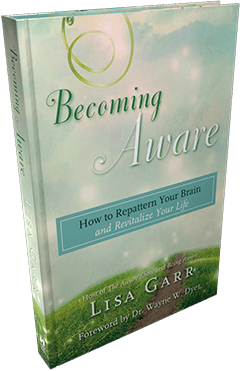 Several years ago, Lisa suffered a brain injury during a California State Championship Mountain bike race, cracking her helmet in 13 places.
After her near-death experience while lying on the side of the mountain, she transformed her level of consciousness, and rebuilt her brain and her life using specific visualization techniques outlined in this book.