July 11, 2018
Tama Kieves
Thriving Through Uncertainty
For many of us, feeling uncertainty about things in our lives can be draining and overwhelming.  It can be hard to see which path to take when we're in the midst of change, transition or chaos.  But on today's show, Lisa's guest Tama Kieves Tama's offers some help and practical advice from her latest book, Thriving Through Uncertainty.  Listen as she shares tips on how to move beyond fear of the unknown and make change work for you.
July 12, 2018
Yvonne Tally
Kick the Busy Habit!
 "I've just been so busy!" How often have you heard or said that?  It's almost become the standard greeting, especially between women.  But all this busyness is getting us nowhere.  Here to help us regroup and realign our lives is Yvonne Tally, author of the book Breaking Up with Busy. Listen as she outlines ways to shift and calm your mind, learn how to say no, and create your own "busy-busting solutions."
YouTube Episodes of The Aware Show
Please Subscribe to make a vote for Conscious Media!!
Becoming Aware
by Lisa Garr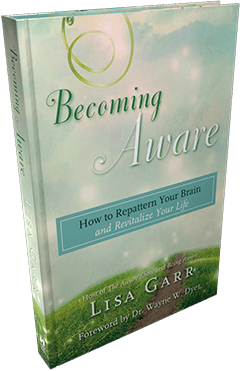 Several years ago, Lisa suffered a brain injury during a California State Championship Mountain bike race, cracking her helmet in 13 places.
After her near-death experience while lying on the side of the mountain, she transformed her level of consciousness, and rebuilt her brain and her life using specific visualization techniques outlined in this book.