October 18, 2018
Brent Phillips
Put an End to Suffering! (Fund Drive) (re-air)
Want to know the eight simple secrets to transcend money stress, overcome low self-esteem and reclaim your happiness?  Then today's program is for you.  Brent Phillips has spent an enormous amount of time and energy putting together a Formula For Miracles program and he's generously making it available to our listeners during this fund drive.  Listen in for an overview and the enlightening details!  
October 17, 2018
Dr. Gil Kajiki
Get to Know Your Thyroid! (Fund Drive) (re-air)
Did you know that your thyroid produces and regulates the hormones that affect the function of virtually every organ in your body?  So when things go wrong with it, things go wrong! Find out more today about the thyroid gland,  what happens when it's not functioning optimally, what the triggers are, and what you can do about it as Dr. Gil Kajiki offers his insights during this special fund drive show.  
YouTube Episodes of The Aware Show
Please Subscribe to make a vote for Conscious Media!!
Becoming Aware
by Lisa Garr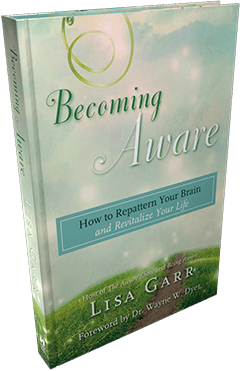 Several years ago, Lisa suffered a brain injury during a California State Championship Mountain bike race, cracking her helmet in 13 places.
After her near-death experience while lying on the side of the mountain, she transformed her level of consciousness, and rebuilt her brain and her life using specific visualization techniques outlined in this book.