August 15, 2018
Noah St. John
Try Some Ultimate Wealth Afformations® (Fund Drive) (re-air)
According to Lisa's guest today, Noah St. John, you can make more money than you ever dreamed possible when you align your subconscious mind with your conscious actions.  Tune in today to find out just how to do that and what you might be able to manifest by applying Noah's proprietary system of Afformations.  This could get very exciting! 
The recording for this show is not yet available.
August 16, 2018
Tom Bird
Write Your Book with Tom Bird! (Fund Drive) re-air
There's never been a better time to write your book.  It's within you and just waiting for you to take the first step.  And that first step is signing up for guest Tom Bird's upcoming Write a Bestseller in a Weekend retreat, Nov. 9-11.  Hear all about it today during this special fund drive show.  
The recording for this show is not yet available.
YouTube Episodes of The Aware Show
Please Subscribe to make a vote for Conscious Media!!
Becoming Aware
by Lisa Garr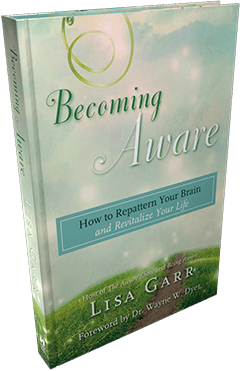 Several years ago, Lisa suffered a brain injury during a California State Championship Mountain bike race, cracking her helmet in 13 places.
After her near-death experience while lying on the side of the mountain, she transformed her level of consciousness, and rebuilt her brain and her life using specific visualization techniques outlined in this book.