April 19, 2018
Carl Studna
The Evolution of Loving
Photographer Carl Studna has complied an extraordinary collection of intimate photos that capture the in-depth, devotional love of eight extraordinary couples, ranging in age, ethnicity and sexual preference. Listen as he talks with Lisa about his experience putting together this book, The Evolution of Loving, and how he was able to capture each couple's rich tenderness, passion and trust. 
April 19, 2018
Patricia Crane
You Can Heal Your Life
Louise Hay pioneered the philosophy You Can Heal Your Life with her books and videos on the power of mirror work and personal affirmations.  Today's guest, Patricia Crane, studied under Louise and is now carrying on her legacy and teachings.  Tune in and be prepared to be inspired and uplifted!
YouTube Episodes of The Aware Show
Please Subscribe to make a vote for Conscious Media!!
Becoming Aware
by Lisa Garr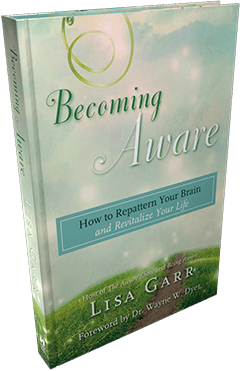 Several years ago, Lisa suffered a brain injury during a California State Championship Mountain bike race, cracking her helmet in 13 places.
After her near-death experience while lying on the side of the mountain, she transformed her level of consciousness, and rebuilt her brain and her life using specific visualization techniques outlined in this book.