October 26, 2016
Akuyoe Graham
Hear the Voices of the Unheard (Fund Drive)
For the past 21 years, the Spirit Awakening Foundation has been giving voice to incarcerated children and youth and one of their main events is their Voices of the Unheard event where the powerful, heart-pounding and soul-searching words written by these incarcerated children and youth are performed by guest artists such as Rev. Michael Beckwith, Rickie Beckwith and Frances Fisher, along with former child detainees.  Hear more about this event from one of its founders, Akuyoe Graham on today's special fund drive show.  And for tickets go to http://testimony.bpt.me.
The recording for this show is not yet available.
October 27, 2016
Morry Zelcovitch
Retrain Your Brain for a Better Life (Fund Drive) re-air
Lisa's guest today is Morry Zelcovitch, creator of The Morry Method which is a brainwave entrainment process that results in benefits similarly found with Zen or Transcendental Meditation. These benefits extend throughout the body including improved breathing patterns and higher physical energy levels, not to mention an improved outlook, better performance in both sports and career, improved relationships and increased workplace satisfaction. And who wouldn't want to experience that!? Join us today for this special fund drive show!
The recording for this show is not yet available.
---
Becoming Aware
by Lisa Garr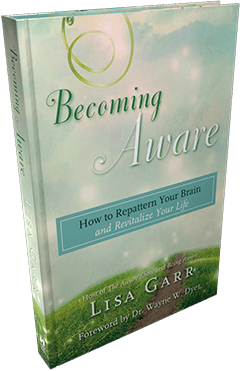 Several years ago, Lisa suffered a brain injury during a California State Championship Mountain bike race, cracking her helmet in 13 places.
After her near-death experience while lying on the side of the mountain, she transformed her level of consciousness, and rebuilt her brain and her life using specific visualization techniques outlined in this book.