Master Francisco on The Aware Show with Lisa Garr
Listen to Recent Episodes of The Aware Show
March 15, 2018
Bernardo Moya
Live a Life Without Limits (re-air)
Today's guest is Bernardo Moya, founder of The Best You Expo, which is taking place March 24-25  at the Long Beach Convention Center. He'll tell us all about this event, which is a gathering for people who are passionate about living better lives, creating a better world and gaining greater mindfulness. The Expo explores topics like wealth, health, entrepreneurship, confidence, aging, mindfulness practices, passionate living, breaking self-limiting beliefs and much more.  https://thebestyouexpo.com/us/.
For 20% VIP Offer click here: https://thebestyouexpo.com/us/expo-offer-vip/7067
March 14, 2018
Barbara Marx-Hubbard
Insights from a True American Visionary
Barbara Marx Hubbard has inspired many the world over. Known as the mother of Conscious Evolution, her work is changing the world for the better. Learn more about her life's work and message when Lisa interviews her today about her life, vision and her exciting new film, American Visionary: The Story of Barbara Marx Hubbard.
Becoming Aware
by Lisa Garr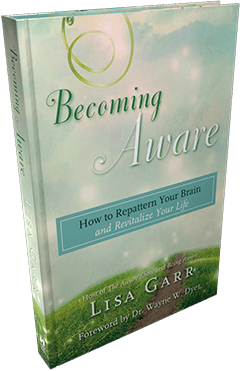 Several years ago, Lisa suffered a brain injury during a California State Championship Mountain bike race, cracking her helmet in 13 places.
After her near-death experience while lying on the side of the mountain, she transformed her level of consciousness, and rebuilt her brain and her life using specific visualization techniques outlined in this book.