Join Lisa Garr on Being Aware on Hay House Radio, Lisa's Inspirations on Gaia TV and on The Aware Show on KPFK in Los Angeles and WBAI in New York as she interviews best-selling authors and experts in the fields of natural health, cutting-edge science, personal growth, and spirituality. She is also a regular weekend host on Coast to Coast AM and has one of the largest telesummit series on YouTube. 
Dr. Joel Wallach on The Aware Show
In this day and age, it's not a matter of just being healthy and living a healthy lifestyle, it's also about protecting your body from superbugs. Learn more about my recent guest Dr. Joel Wallach, and his life-changing products at Youngevity, here.
Listen to Lisa now
Being Aware on hay House Radio | Aware on KPFK | Inspirations on Gaia TV | Coast to Coast AM
May 16, 2018
Tisha Morris
The Power of Feng Shui (Fund Drive)
Are you interested in putting the power of feng shui into your own hands?  Then listen to this interview between Lisa and feng shui master Trisha Morris.  You'll learn about the history of feng shui, some of the basic tenets of the process, how you can apply it to various  areas of your life, and how shifting and paying attention to placement and clutter in your home can literally change your life.  
The recording for this show is not yet available.
May 17, 2018
Tom Bird
You've Got a Book Inside You! Let It Out! (Fund Drive)
If you've ever felt like you have a book in you, waiting to get out, or if you have a burning desire to see if you can birth a book out of the blue, this is the show for you.  Because writing muse Tom Bird will be on today to explain how everyone has a book inside of them, just waiting to be accessed.  Tune in to this special fund drive show and find out how you too can become a published author!
The recording for this show is not yet available.
YouTube Episodes of The Aware Show
Please Subscribe to make a vote for Conscious Media!!
Becoming Aware
by Lisa Garr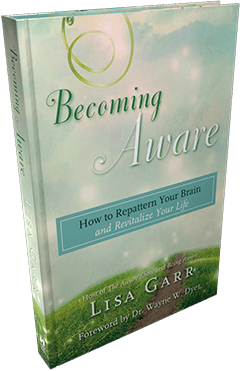 Several years ago, Lisa suffered a brain injury during a California State Championship Mountain bike race, cracking her helmet in 13 places.
After her near-death experience while lying on the side of the mountain, she transformed her level of consciousness, and rebuilt her brain and her life using specific visualization techniques outlined in this book.