March 21, 2018
Carl Studna
The Evolution of Loving
Photographer Carl Studna has complied an extraordinary collection of intimate photos that capture the in-depth, devotional love of eight extraordinary couples, ranging in age, ethnicity and sexual preference. Listen as he talks with Lisa about his experience putting together this book, The Evolution of Loving, and how he was able to capture each couple's rich tenderness, passion and trust. 
The recording for this show is not yet available.
March 21, 2018
Tisha Morris
Is it Time for a Clutter Intervention?
Is your stuff keeping you stuck?  Probably, according to Lisa's guest today, Tisha Morris, author of the book Clutter Intervention. Find out how to go beyond basic decluttering and get to the root of why you have such a hard time getting rid of your stuff.  Today she'll give you clues about the psychological, emotional, and energetic components underlying your possessions, making it easier for you too get go and live authentically.
The recording for this show is not yet available.
YouTube Episodes of The Aware Show
Becoming Aware
by Lisa Garr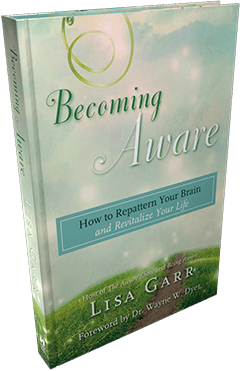 Several years ago, Lisa suffered a brain injury during a California State Championship Mountain bike race, cracking her helmet in 13 places.
After her near-death experience while lying on the side of the mountain, she transformed her level of consciousness, and rebuilt her brain and her life using specific visualization techniques outlined in this book.