September 20, 2018
Katherine Woodward Thomas
Calling In the One
How do you find "the one?"  That one true love of your life?  That perfect-for-you partner?  It seems so challenging at times that there must be some sort of secret code, right?  Well, here to demystify the process is relationship expert Katherine Woodward Thomas.  Listen in – who knows, it just might change your life!
September 20, 2018
Sam Horn
SOMEDAY is Not a Day in the Week
If any of your sentences begin with the words "Someday I'm going to……" then this interview is for you.  Listen in as Lisa talks with author and communication expert Sam Horn about how to stop waiting and start initiating the life you want.  It's waiting there for you, behind the "someday."
YouTube Episodes of The Aware Show
Please Subscribe to make a vote for Conscious Media!!
Becoming Aware
by Lisa Garr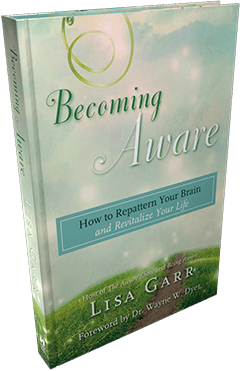 Several years ago, Lisa suffered a brain injury during a California State Championship Mountain bike race, cracking her helmet in 13 places.
After her near-death experience while lying on the side of the mountain, she transformed her level of consciousness, and rebuilt her brain and her life using specific visualization techniques outlined in this book.