June 20, 2018
Dr. Sue Morter
The Power of Energy Codes
The Energy Codes® are a set of principles and practices you can use in your daily experience to tap into your authentic self and realize deeper states of awareness. Tune in to today's show with Dr. Sue Morter and find out how you can overcome fear and navigate challenging emotions. You'll feel more deeply connected to the people around you, as you naturally begin to exude a loving presence. Sounds perfect!
June 21, 2018
Riz Virk
Follow Your Inner Clues to Find True Success (re-air)
Have you ever wished you had a wise old mentor who could tell you where to go next in your career or your life?  Well, your wish is granted because author, mentor, entrepreneur and angel investor Rizwan Virk is on the show today.  Listen as he talks about how synchronicity, hunches, gut feelings, visions, experiences of déjà vu, bodily sensations, and even dreams are clues in our own personal Treasure Hunt.  All drawn from his latest book, Treasure Hunt: Follow Your Inner Clues to Find True Success.
YouTube Episodes of The Aware Show
Please Subscribe to make a vote for Conscious Media!!
Becoming Aware
by Lisa Garr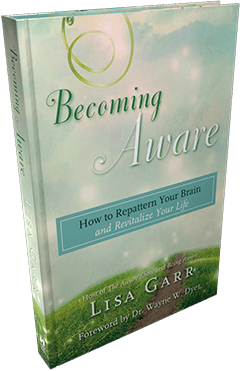 Several years ago, Lisa suffered a brain injury during a California State Championship Mountain bike race, cracking her helmet in 13 places.
After her near-death experience while lying on the side of the mountain, she transformed her level of consciousness, and rebuilt her brain and her life using specific visualization techniques outlined in this book.